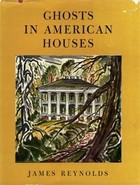 Ghosts in American Houses by James Reynolds
1955/Bonanza Books-Crown Publishers/$12.50~$5.00 (Year/Publisher/Price-New/Used)
229 Pages - illustrated by James Reynolds
I love books. I especially love old books. I also love ghost stories. I especially love "true" ghost stories, so when my daughter and her fiance surprised me with a gift combining my two passions which they had discovered on a neglected shelf in a quaint little antiques shop, it placed no strain upon the imagination to understand the anticipatory fire of affection kindled in me before I had even lain my covetous mitts upon the newest addition to my collection of supernatural sagas.
Still clad in its original dust jacket, time and gentle hands had treated the volume well. There were no dog-eared pages or frayed binding and except for a faint age-induced ivory discoloration tinting the very edges of the leaves, the book might have been published only recently. Upon my initial cursory inspection, little did I realize the true nature of the treasure my loved ones had unearthed, but I'll get to that in a moment.
Judging by the story titles and the wonderful illustrations that accompanied each, I quickly came to the opinion that the work targeted a young reader audience. The scariest sounding of the thirty-three tales were "The Moaning Oak", "The Phantom Lighthouse", and "Buried in Crystal". Rather tame stuff for a modern generation exposed to more gore and bloody mayhem in a video game than many combat-hardened veterans see in the course of duty. For someone who had cut her paranormal teeth on screaming skulls, reanimated corpses, and vengeful death-mongering spirits, I happily settled down to read, expecting a nostalgic shiver or two, rather than any insidious psychological terror a la Poe.
In that respect I was not disappointed, though I did modify my original opinion of the target audience. I doubt that parents (in 1955 or even today) would enjoy explaining the nuances of typically adult topics such as rape, bastardy, harlots, brothels, fratricide, suicide, sociopaths, and brutal murder to an inquisitive child whose literary grasp of the unsavory elements of life are on a Harry Potter level. While not graphically detailed, the content of several stories does have substance more suited to mature readers.
The darker aspects aside, I was rather surprised to encounter only one tale with which I had any familiarity. "Buried in Crystal" relates the sensational disappearance of San Francisco debutante Flora Summerton upon the very night of her introduction to Nob Hill society. Without clue nor trace, Flora, along with her crystal-beaded Parisian gown, vanished into thin air, and her father's quarter-of-a-million dollar reward went unclaimed. Many years later, in Butte, Montana, the mystery was solved at last, yet poor Flora's ghost still haunts the streets of San Francisco where it all began. Another historical figure given to lurk about sites he was closely associated with during life is Revolutionary War General "Mad" Anthony Wayne who commanded Fort Ticonderoga at one point during its chaotic tenure as quarters for the Continental Army. Wayne, however, seems to be just as adventurous in the afterlife as he was in the flesh, there being claims of his spirit appearing at four different locations.
Other stories delivering chills, "Frieze of Pomegranates and Phoenix Birds", wherein the victims of multiple murderess and Virginia aristocrat Lettitia Dalton still haunt the burned out ruins of Paynton Hall, the tidewater plantation where they met their untimely ends; "A Frosty Evening for the Figure Eight" where devoted sisters Janet and Rosetta continue to indulge their passion for ice skating and winter carnivals in New York's Central Park; and "Madonna of the Uplands" which relates the pitiful saga of Laurie May Maumsey Kilmer, an uneducated Ozark child/woman with a maternal instinct for all babies, whether feathered, furred, two or four-legged, consigned to madness and oblivion by her own infant's tragic fate.
Lastly there is "The Woman Who Would Not Die", the tale of Dominique Laboutre who defied Fate's every attempt to cut short her time in this world. She survived four murderous assaults by her philandering cad of a husband including smothering by pillow, a rigged carriage accident, poisoning, and drowning. Before wedded bliss, she rallied after being dropped on her head at her christening and, as a child, the 1790 Santo Domingo slave uprising, which left every member of her family slain and she with her head nearly severed from a cruel machete blow. Rescued from a cove where she and her doomed elder brother had sought shelter, the cauterizing effect of salt water had stanched the blood, aiding her survival, yet the wound itself never fully healed. She kept the unsightly scar covered by a scarf, but for the remainder of her life, it bled copiously whenever she was under duress, quite disconcerting at the dinner table to her step-children who had inherited their father's less than endearing qualities. Still Dominique had the last laugh. She died from internal hemorrhages well into her hundreds, and her crimson-necked ghost drove her surviving marital relatives to death and insanity.
As to the true treasure of this work I mentioned earlier, James Reynolds, the author, is also the illustrator, and his companion pieces for each story (four in color, the remainder black and white) successfully capture the essence of the content with skillful mastery. In both the watercolor and monochromatic prints, an impressionistic definition is lent to outlines by use of broad sketching brushstrokes, while subtle shading and attention to ephemeral detail, especially in dress and setting, result in richly distinctive paintings. My interest piqued, I conducted some research and discovered one James Reynolds, author and artist, renowned for his work in the western art genre, that one's preferred medium being oil on canvas, however I could not reconcile the disparity of the two styles if the artist was indeed the same.
Additional sleuthing resolved the conflict. The James Reynolds responsible for Ghosts in American Houses entered upon his career in the art world as a costume and scenic designer for the Ziegfeld Follies, the lavish Broadway revues of the early twentieth century which featured many mega-celebrities of the day. Credited for his work in twenty-five productions between 1920 and 1936, Reynolds, a contemporary of the period's über fashionistas, Erte and Lady Duff Gordon, retired from the theatrical venue to travel globally while pursuing interests in architecture, painting, and American and Celtic folklore. His Ziegfeld era designs are increasingly rare with most extant examples found in private collections or archived within research and preservation foundations, so my gift was not merely an old book about ghosts, but an old book about ghosts with thirty-three potentially valuable art prints!
Mom has plenty of room on the bookshelf for more of those kinds of gifts, kids! Bring them on!
5***** of 5*****/ LadyJEM