Jan's Orbs
Piedmont, SC
March 20th, 2010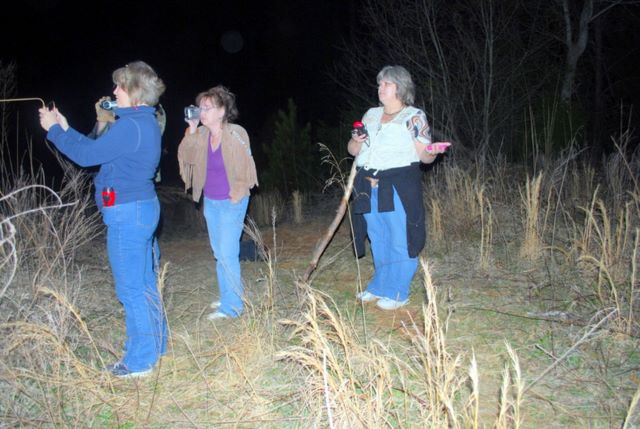 First and foremost, I must say that we are always surprised and amazed at the events that unfold at our investigations….

When pal Jan shared her photos of the many orbs that had appeared on her family's property for as long as she could remember, I was intrigued and ready to pay a visit to this enchanted forest. Needless to say, the lure of finding cool orbs in the woods proved too tantalizing for the Ghost PRO team to pass up and we were soon on our way to see for ourselves the orbs and to attempt to pinpoint their source, be it natural or….otherwise.

The land is tucked away in a beautiful wooded area of rural Piedmont, SC. The family compound consists of three homes; the original, built in the 70's, lies nestled in the peaceful woods, reached by a winding driveway. There Jan and her many siblings grew up and, as children, roamed the land, exploring the hollows and playing in the forest among the large trees and the ruins of fallen structures abandoned long ago by previous owners of the property. Later, the other homes were added to the property and again the land bustles with the activity of children at play in the forest.

And that is exactly as we found it on that crisp spring afternoon. As brother Bubba led the Ghost PRO team over the property to take measurements and make observations in the woods and along the power lines in the clearing, I remained behind to conduct the preliminary interview with Jan, being the one already familiar with stories about the orbs. The team returned as we were concluding the interview and Cat asked Jan, "Are you aware you have a Watcher in the woods?" Jan was indeed familiar with the Watcher.


As darkness closed in, we trooped through the woods, leaves crunching underfoot. Jan and brother Bubba described the lay of the land, sharing childhood memories. After a time, several of the team sensed a crackle of energy in a little hollow to our right and we stopped to observe and record what we might find. We all peered into the darkness and there, at a distance of about 50 yards, we could observe lights flashing randomly, like little snaps of electricity shooting across the clearing. We remained for a time to comment and to record the flashes and then moved on to the next clearing. Again we observed some similar flashes.

Soon we were all standing below the grid of power lines in the large clearing under the moonlit sky. Any presences were asked to show themselves and Cat announced she sensed the message, "I'm here" in her head. Suddenly, Janet's Ghost meter, which had sensed no activity and had remained quiet during the initial sweep of the property, began to beep steadily, and Cat's Ghost meter followed. The devices began their beeping in sync and in earnest. Cat's Ghost meter faded in as Janet's went quiet. As Cat announced she sensed the presence of Native American Watchers, or protectors, both Ghost meters began to beep in sync once more. I asked if a Watcher was present to protect this family and the Ghost meters stepped up their pace of loud beeps. Photos taken at this time show many orbs around us.

Cat was excitedly telling us she could see the many Watchers come out of the woods, and could hear the mysterious name "O-a-nu". The beeps passed between the Ghost meters before they settled in synchronized beeping once again.
At this time I felt urged to bring out the dowsing rods. The rods opened and pointed, one rod holding steady on Jan and the other on brother Bubba. The rods seemed to acknowledge the role of the siblings as the Protected Ones on protected land, the family cared for by the Watchers. Jan and Bubba grinned with delight. The investigation had only served to validate what they had always known as they revealed to us the native history of the land and their ties to the Cherokee Nation.

Again, I must say that we are always surprised and amazed at the events that unfold at our investigations….. ~~Mariel Barney Hunkeler, The CatHerder

Back to Investigations page